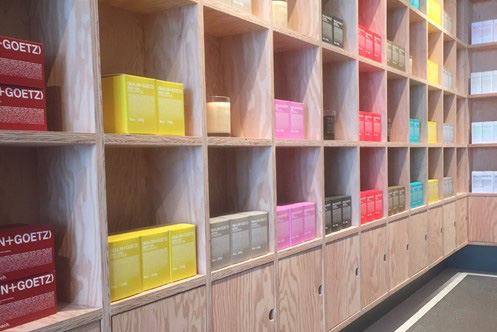 Richply sanded & industrial panels are structural plywood panels with face and back plies that are sanded smooth during the manufacturing process. Face and back veneers are available in a variety of grades which are defined by natural unrepaired growth characteristics of the wood fibre, and the allowable number and size of repairs permitted during manufacturing. Veneer grades in descending order of quality are A, B, C-Plugged, C and D. Richply manufactures an assortment of sanded & industrial panels for applications where surface smoothness, beauty and appearance are important and when the structural advantages and workability of plywood are desired.
Richply sanded & industrial panels are constructed primarily from Douglas Fir; one of the world's best-known and most widely used wood species. Native to western North America, Douglas Fir is well known for its strength, hardness and durability as well as for its warmth, charm and natural beauty; the pronounced colour difference between the light yellow sapwood and the reddish-brown heartwood results in a distinct and attractive grain pattern when rotary peeled. Douglas Fir also machines well with power tools, has good nail and screw holding ability, glues well and accepts paints and stains.
All Richply sanded & industrial panels are certified under quality assurance by APA – The Engineered Wood Association to meet or exceed design specifications according to CSA (Canadian Standards Association) and/or U.S. Voluntary Product Standard PS-1 for Structural Plywood.
All Richply sanded & industrial panels are bonded under high temperature and pressure with phenol-formaldehyde resin adhesive for an Exterior glue bond classification. Richply sanded & industrial panels have No Added Urea-Formaldehyde (NAUF) and are exempt from US HUD, CARB, and ATCM (Title VI) formaldehyde regulations due to very low emission rates.