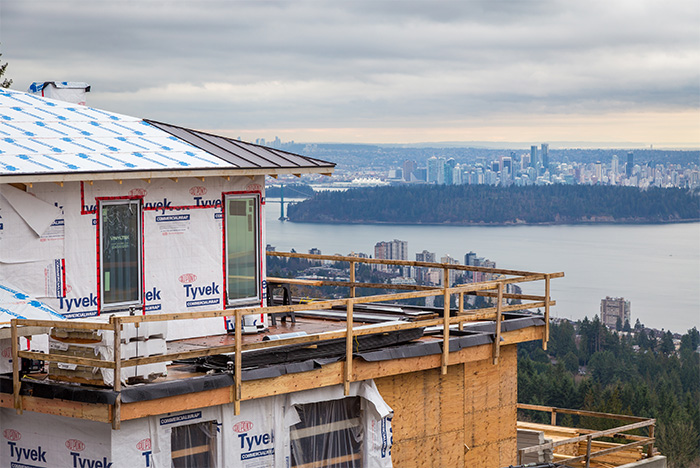 Richply construction sheathings are plywood structural panels used primarily as a load-bearing components for roof, wall and floor assemblies in single-family and multi-family construction. Plywood was the first (original) engineered wood product; and today plywood sheathing still outperforms all substitute wood-based panels available on the market. The cross-laminated design of veneer layers gives plywood high tensile strength in all directions, superior dimensional stability, excellent strength-to-weight ratio, resistance to shrinking and swelling, and high flexural and impact strength.
Richply manufactures two main species types: Douglas Fir Plywood (DFP) and Canadian Softwood Plywood (CSP). All construction sheathing panels are certified under quality assurance by APA – The Engineered Wood Association to meet or exceed design specifications according to CSA (Canadian Standards Association) and/or U.S. Voluntary Product Standard PS-1 for Structural Plywood. The standards specify the requirements for species, veneer grades, panel construction, glue bond, manufacturing tolerances, workmanship, identification and marking.
Richply is also certified to meet international standards for JAS (Japan Agricultural Standard) and CE Marking signifying conformity with health, safety, and environmental protection standards for products sold within the European Economic Area.
All Richply construction sheathing panels are available with square-edges or, for thicknesses 12.5mm (1/2") or thicker, with Easy T&G™ (tongue-and-groove) edge profiles for roof and floor applications.
All Richply construction sheathing panels are bonded under high temperature and pressure with phenol-formaldehyde resin adhesive for an Exterior glue bond classification with the exception of PS-1 C-D panels which are Exposure 1. Richply construction sheathing panels have No Added Urea-Formaldehyde (NAUF) and are exempt from US HUD, CARB, and ATCM (Title VI) formaldehyde regulations due to very low emission rates.